Home > Irrigation > Pop-Up Sprinklers > Toro & Irritrol Pop Ups
Toro & Irritrol Pop Ups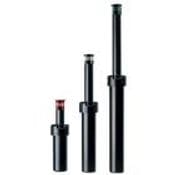 HS Series sprayheads offer a variety of important features that ensure quality, performance and reliability in commercial, light commercial & residential applications. Featuring state of the art design and convenient pop-up heights, these sprayheads deliver optimum water-efficient coverage.
Features:
Newly redesigned bodies
Pressure-activated seal
Ratcheting riser permits easy arc adjustment in the field
Matched precipitation rate nozzles provide even coverage.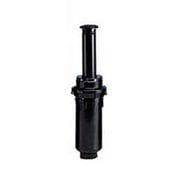 300 Series is designed for medium to large lawn and shrub areas.
Features include;
multiple rotating stream pattern
matched precipitation rate nozzles and arc discs
choice of 6 nozzles and 9 arc discs
gear driven design
large basket filter screen
durable engineering plastic and stainless steel
effluent water indicators available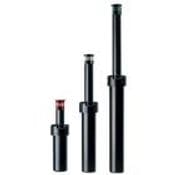 Irritrol SL Series Pop ups
Ideal for residential and light commercial applications.
The SL series features a compact slim-line body with 50mm or 100mm pop up heights.
Features include;
matched precipitation nozzles
adjustable arc patterns from 25-360 degrees
debris covers on models without nozzles
ratcheting riser permits easy arc adjustment
pressure activated seal
heavy duty stainless steel retraction spring
removable nozzle, screen and internal components
accepts all Irritrol HSN nozzles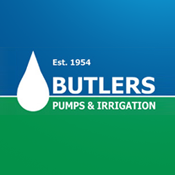 Irritrol Nozzles
With a fully adjustable arc from 0° to 360° and precision adjustments, the new Pro-Van nozzle reduces inventory requirements while meeting the needs of any size or shape landscape.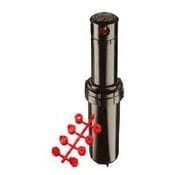 Toro Super 800 Series
Ideal for light commercial and residential use, with it's enhancing features contractors will appreciate.
arc indicator for simple adjustment from 40-360 degrees
125mm pop up height
automatic arc return if nozzle has been tampered with
heavy duty retraction spring
pressure activated seal
sturdy trip mechanism
built-in check valve
This gear driven rotor will meet the specific needs of the contractor.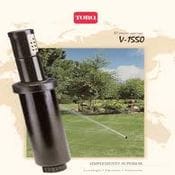 Toro V-1550 Series Sprinkler (low pressure)
The V - 1550 Series has a nozzle which provides the flexibility to do more with less. With a twist of a screwdriver, adjust gallons per minute, arc and radius - all from the top of the head. V-1550 Series is a great choice for residential and light commercial applications.
Full-circle Models
Adjustable Part-circle Models (40o - 360o)
Adjustments from the top - Wet or Dry
Balanced Precipitation Rates
Standard Rubber Cover
Low - pressure models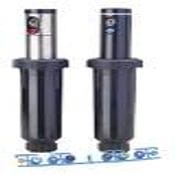 Toro 2001 Series Sprinkler
With an adjustable arc and the first color-coded nozzle tree, the 2001 Series sprinkler provides a new level of convenience in design, installation and maintenance. They are designed for medium to large commercial applications.
Radius of 48' to 71'
Arc adjusts from the top (30° to 360°)
Screw-in nozzles
Six main nozzles two inner nozzles provided with each sprinkler
4" pop-up
Snap ring designed for ease of maintenance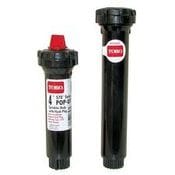 Toro 570Z Pop up
Toro Sprinklers installed with head-to-head spacing for complete and even coverage deliver precise coverage without gaps or runoff. Toro 570 series sprinklers are a professionally preferred product installed all over the world. Available in a range of heights from 3" to 12". Matched Precipitation Rate Nozzles allow mixing different radius nozzles without over or under watering.
Nozzles are not included with this product and must be ordered seperately.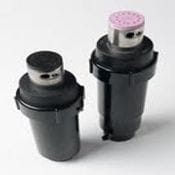 Toro 640 Series
Considered the most durable, heavy-duty commercial sprinkler available, the 640 Series is the traditional, proven veteran for athletic fields and other large commercial applications.
It is equipped with a standard rubber cover and offers a choice from five nozzles and twelve arcs.