Home > Irrigation > Controllers & Timers > Rain Sensors
Rain Sensors
Rain Sensors by leading brands including;
Hunter Miniclik Rain Sensor
Hunter Wireless Rain Sensor
Irritrol Rain Sensor
Toro Rain Sensor
Solar Sync Sensors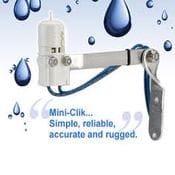 The Hunter Miniclik Rain Sensor is most effective way to prevent sprinklers from coming on during or after rain. It easily installs on any automatic irrigation system, then shuts sprinklers off when raining and keeps them off, automatically compensating for the amount of rainfall that occurred. Discs absorb water and expand proportionally to the amount of rain that fell. As the moisture-laden discs expand, they eventually activate a switch that interrupts the circuit from the controller to the solenoid valves. Once dry, they contract and release the switch. Thus, Mini-Clik automatically resets without ever affecting your controller.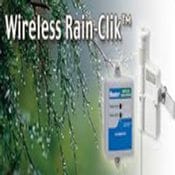 Hunter Wireless Rain Sensor
If the thought of running wires from a controller has kept you from adding rain sensors to your systems, now there's a hassle-free alternative. The Hunter Wireless Rain-Clik, attaches quickly and easily.
Simply install the receiver unit next to your irrigation controller, then install the transmitter anywhere that the device can receive representative rainfall. No ladders needed to attach to a high outcropping on a building, no messy wires to hide out of view.
Hunter Rain-Clik has features no other rain-sensing device offers. The unique Quick Response feature allows the product to shut off immediately when it starts to rain. And, the sophisticated sensing mechanism cannot be fouled by debris, giving the Wireless Rain-Clik the most highly accurate operation.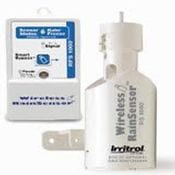 The Irritrol Rain Sensor is designed for residential and commercial applications.
Operating specifications:
sensor type: industry standard hygroscopic discs
rain sensitivity: adjustable nominal 3-25mm
UV resistant engineered polymer
Wireless only features:
transmittion range: up to 91m line of sight
battery: two CR2032 3 V cells - 5 year life (typical)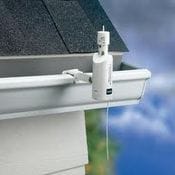 Toro Rain Sensor
The rain switch will shut-off your irrigation system when it rains, to conserve water. When installed you no longer have to worry about your lawn sprinkling system running during a rain storm, and wasting water.
The rain switch consists of a small piece of PVC tubing with mounting hardware and wiring. The wiring connects to the Toro irrigation control panel for your irrigation system. The PVC tube is slotted to collect rainfall. When rain enters the slotted tube, leather washers expand and contact a shut-off switch. Once the Toro Rain Switch accumulates 1/8" to 1" of rainfall, it automatically shuts off your sprinkler system. It is easily installed and connected to the irrigation system controller.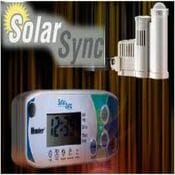 Solar Sync Sensors
Now smart weather-based control is available in every Hunter controller category
X-Core & ACC controllers have the Solar Sync software built in and do not require the module