Home > Pumping > Domestic Pressure Systems > Onga Domestic Pressure Systems
Onga Domestic Pressure Systems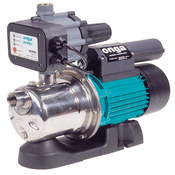 The JS range is made from precision moulded internal components with a strong, corrosion resistant stainless steel pump shell. The JM Pump is an all moulded pressure system complete with minipress.
Models: JMM100, JS100, JS110, JS120 (See product information)
Typical Applications
• Ideal for automatic constant pressure household water supply, especially with high suction lift.

Features Benefits
Constant Pressure Great Pressure for showers & appliances
Loss of Prime Protection Protects pump against dry running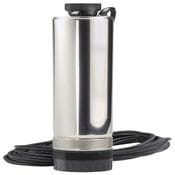 The Onga Dominator range is perfect for silent household pressure system applications, garden irrigation, or water transfer.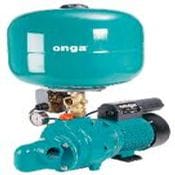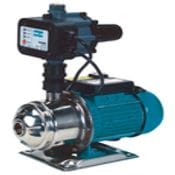 The SMHP range provides solutions for average sized homes right up to the largest applications. With a highly efficient and super-quiet design, SMHP pressure systems are the perfect match for your rainwater tank. The exclusive Dry Run Operating Protection (D.R.O.P.) system prevents costly pump damage. Constructed of engineered plastics and stainless steel, these pumps are made to last and last.
Models: SMH350, SMH450, SMH550, SMH750, SMH900
SMHP450 SMHP550, SMHP750, SMHP900
Typical Applications
This is the perfect household pressure pump. Coupled with electronic pressure control these pumps give you a fantastic shower, without annoying pressure and temperature fluctuations.
Features Benefits
Stainless Steel motor Shaft & Pump Casing Corrosion resistant, long lasting
Precision Moulded components High Efficiency, Low noise
Stainless Steel pump foot Avoids corrosive sitting water, easy installation
Constant Pressure (SMHP models) Great pressure for showers & appliances
Loss of Prime protection Protects pump against dry running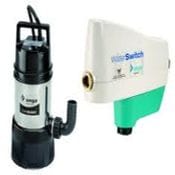 Premium submersible pumps for urban water applications. With its groundwater origins, the Onga's Submersible Waterswitch Systems are designed for many years of reliable service in the urban environment. Coupled with the Waterswitch it provides a premium automatic rainwater control system that will provide faultless operation..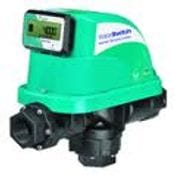 The Onga WaterSwitch is a unique system designed to avoid high losses in pressure, which means WaterSwitch can be used in a broader range of applications like garden irrigation including pop-up sprinklers. The high flow design of the WaterSwitch enables the most effective Onga pump package, providing optimum energy efficiency and lower running costs.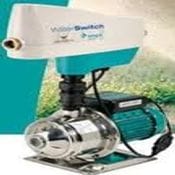 WaterSwitch needs to be installed with a pump. When you connect a pump to your rainwater tank, you can use your water as you would mains supply water. It will have enough pressure to fill your toilet cistern, to operate the washing machine, and to operate your garden sprinklers or watering system. The WaterSwitch Systems is ideal for controlling rainwater for household use in apparatuses such as the washing machine, flushing the toilet, washing the car and watering the garden.