Home > Domestic Drinking & Household Water > UV Filtration Systems
UV Filtration Systems
UV filtration systems including Ecotrol UV Filtration Systems, Steriflo UV Water Treatment Systems and Steriflo Replacement Lamps.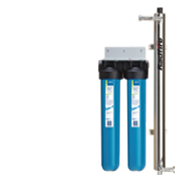 The Ecotrol -range of UV filtration units, is the preferred choice. Incorporating Radfire™ and Dual-Filtration technology, it provides purified water anywhere in the whole house.
This unit offers 99% bacteria protection as well as providing additional prefiltration which gives longer cartridge life and extra sediment reduction.